Supervising your first project or want to improve existing workflows? Get tips for creative project management to stay on track while keeping clients and team members happy.
Creative project management helps ensure that your client or business achieves their digital marketing goals. A project manager can oversee entire campaigns or focus on specific tasks.
Whatever the project, team leaders must overcome challenges and meet expectations. Whether you're currently working in a project management role or looking for one, you can use this guide to hone your skills.
Presentation: What is creative project management?
Creative project management is the process of managing creative teams while moving projects toward completion. Projects typically support marketing, public relations, sales, and customer service goals. Your on-site or virtual staff may include:
Graphic designers
Artists
Editors
Search engine optimization (SEO) specialists
User experience (UX) designers
web developers
Content Marketing Writers
Brand specialists
Photographers
Social media assistants
Editors
Business owners can take on the role of creative director. Or entrepreneurs can outsource marketing to a creative agency for project management. Every time you plan a campaign, ad, email, video, or blog post and use art services, you're leading a creative team.
What does a creative project manager do?
A creative project manager communicates and collaborates with clients, stakeholders, and creative teams to brainstorm, plan, and complete projects. The role requires excellent communication, attention to detail and time management skills.
Creative project manager jobs can be in-house, where your projects focus on one brand and audience, or project managers can work in a creative agency with many clients.
Team leaders need project management skills and tools that help them manage:
Customer expectations
Project scope and cost
A diverse team with varied talents
Creative Workflows
Individual project and deadlines
Stakeholders or external suppliers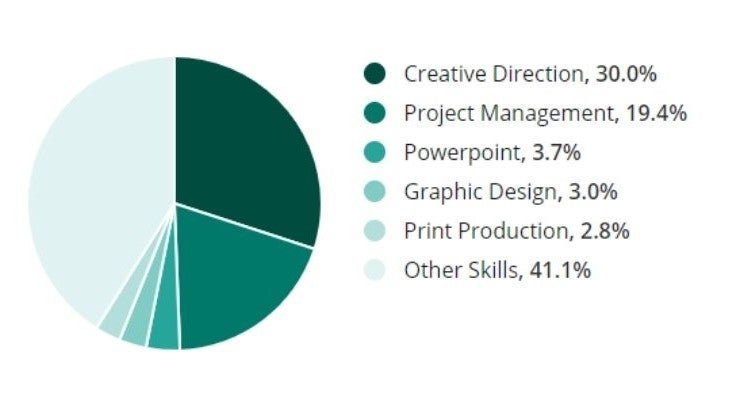 The challenges of creative project management
Project management responsibilities are diverse, which means the right person for the job must have talents in many areas. This is different from the roles of your team members since they specialize in one or more creative activities.
A project manager must know the different components of the project while adhering to a strict schedule and juggling conversations with executives and creatives. With many obligations, project managers face several challenges.
Set and meet expectations
A project manager must guide the expectations of the project owner, external stakeholders, agency owners, and creatives. Once expectations are set, managers need to deliver the experiences everyone wants, which is tricky given the number of different personalities they'll encounter.
Overcome communication challenges
Creative project management training often delves into communication strategies. As a project manager, you will encounter obstacles when connecting with multiple people, including:
Language barriers affecting timelines, editing, and the project approval process
Time zone differences making it difficult to get everyone on the same page
Industry jargon that may differ from terms used by creatives or other stakeholders
Management of creations and their tools
Each person you work with has a different skill set. Although we group everyone in the category of "creative", in reality, a web developer is different from a copywriter.
As a Project Manager, you are expected to understand your team members and their talents while having a basic knowledge of various applications, such as:
3 best practices for creative management
Whenever you employ a team of people with distinct skill sets, you may run into issues that reduce productivity and affect lead times. While some leaders suggest that creative management is difficult, the bottom line is that you can make it easier or harder for yourself as a project manager.
Empower teams with everything they need to complete their projects productively using creative project management best practices.
1. Centralize the creative project management process
If you're managing multiple people or multiple projects, email won't suffice, as it's unwieldy and hard to track. Your creative workflow involves many steps, and you can quickly lose track of what's going on and where.
Avoid hassle by finding an easy-to-use app for creatives of varying talents that encourages collaboration when needed and displays project status as it's completed. Trello, Asana, and monday.com are popular platforms for project management.
Each tool supports:
Project planning: Access planning documents, team rosters, individual strengths, brand assets, and editorial calendars.
Mission delegation: Track workloads and team availability while making it easy to tag creatives and delegate projects.
Development of creative assets: Increase productivity by integrating apps, such as Google Drive, into your project management software.
Status updates: Give creatives a place to ask questions or provide updates about digital projects.
Review method: Save time by alerting creatives to a review request using project management software instead of email.
Approval process: Make the chain of command clear so that each individual knows who to contact when they are finished.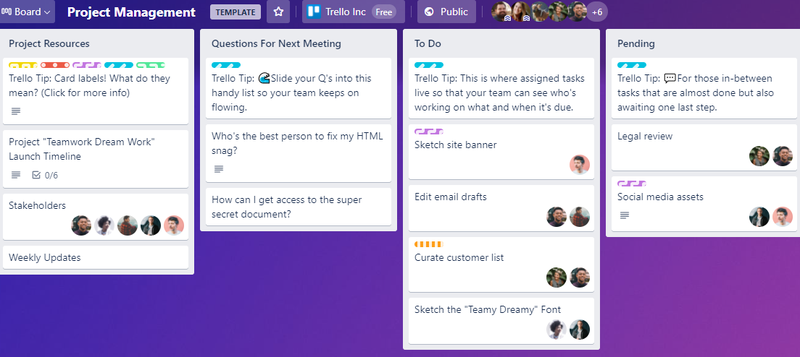 2. Balance creativity and organization
As mentioned above, creatives have a bad reputation for being hard to work with. The creative process varies from individual to individual, and many team members work independently or in small groups.
Creatives may be the best at what they do, but not understand what goes on behind the scenes in your business or agency. Project management techniques should include ways to balance the creative process with completing the project on schedule.
If you are having repeated issues with employees or contractors, first review your communications for clarity. Next, consider the individual circumstances. Ask yourself:
Did you provide advice, answer questions, and offer self-help tools, such as brand guidelines?
Are there any apparent language, technology or communication barriers?
Could you adjust the workflow or timelines for a better fit?
Are you selecting people with the right skills for the job?
Once in a while you may need to release someone. People who consistently underperform or cause delays in your projects affect everyone on the team. Of course, your role requires empathy and interpersonal skills, but you also get paid for organizing the project and managing the workflow.
3. Develop frameworks for creative operations
Project managers must provide creative direction, feedback, and deadlines. In short, you want to give each team member what they need to do their job.
Start by evaluating your project management methods. Create multiple documents to support creations and manage projects. Put guidelines in your project management system so they are accessible.
Project managers can develop plans for:
Acceptance of the project: Give project owners, executives, or clients a questionnaire to get details about project scope, timelines, and expected results.
Project assignments: Be transparent about task assignments and how creatives can convey information about their availability.
Standard Operating Procedures (SOP): Anything you or your team does more than once should be described in your SOP, such as billing policies.
Brand Style Guides: Provide details about your or your client's brand, including voice, tone, and style. Add image specs or other asset-related details.
Creative briefs: Develop task-specific plans that list milestones, deadlines, goals, and expectations.
Brand assets: Keep a file of frequently used branding materials, such as logos and other materials, and ensure they are sized accordingly for different platforms.
Project management for creatives: take the lead
Creative project management is a fun role because it incorporates creativity and organizational skills. You also communicate and collaborate with people from all walks of life and with different skill sets, which makes it crucial to be flexible yet firm. Standardize what you can to reduce potential issues while giving creative teams everything they need to get the job done.